Free range farm food delivered to your door
Wait for a second while the Online shop loads
Triple Orange Wonder GEL 5kg
100326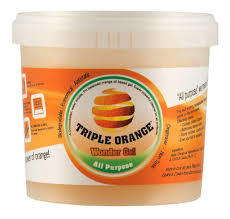 5kg Triple Orange Gel
Concentrated cleaning - with no dangerous chemicals, just the power of ORANGES...
It breaks through grease like a charm and smells absolutely delicious!
When we say, "All Purpose" we mean it!
This hard working, biodegradable household cleaning gel is gentle on the environment and is ideal for people with sensitive skin and allergies.
Effectively cleans:
Crockery, cutlery and glasses
Floors, windows, counters and stoves
Bathrooms, basins and toilets
Even your fruit and vegetables!
Wait for a second while the shop loads, we have lots of products for you!
Red Barn tries to add new and locally produced products on a regular basis.  All our products are either Free Range, organically farmed or just special items made by local craftsmen.
You can search for your product
Use the search bar on the right
Weekly Specials
Every week you can find discounted free range products in the Specials Category
Are you in Cape Town or Port Elizabeth? (or in between)
Yes, we deliver by courier to these areas and in between.  Why not form a chicken club to share the delivery fee?  It's easy. You can also order by yourself.  Read More HERE
Payment Methods for your Farm food
We accept credit card, EFT or COD.  Select your option on the checkout page.
Delivery days
Scroll down in the Right Column to find out when we deliver to your area.
Have fun shopping!