Free range farm food delivered to your door
Wait for a second while the Online shop loads
SUNDOWNER WINGS 800g
100218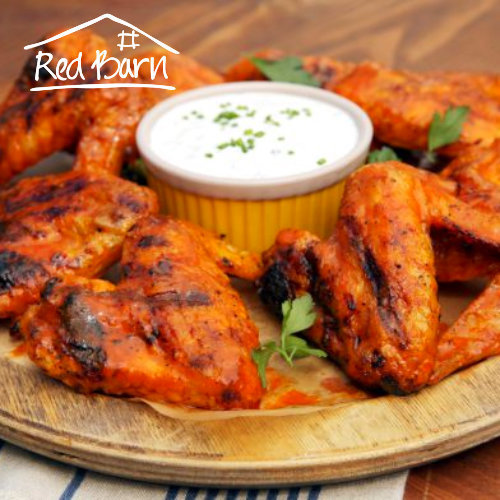 These finely spiced chicken wings are our TOPSELLER.

Once you have tried them you just want to lick your fingers and eat some more!
They can be grilled, braaied, baked, fried or roasted.
I often cook them in tin foil in the oven, long and slow, then open up and brown under grill or quickly braai. EAT SOME MORE ...... !
Simple to cook, just pile them into some tinfoil - pop them into an oven at about 180 degrees and leave for and hour or two... open and brown under grill if required.
Spicy Mexican sundowner wings. Ideal for braais or bake and grill in the oven - Nearly a whole KILO!
Not burny, just spicy and sticky. Our wings are really large so there is lots of meat on them.
Ingredients
Chicken Wings, Commercial mix made up of Spices (Paprika, garlic etc), Red peppers, salt, sugar and preservatives


Wait for a second while the shop loads, we have lots of products for you!
Red Barn tries to add new and locally produced products on a regular basis.  All our products are either Free Range, organically farmed or just special items made by local craftsmen.
You can search for your product
Use the search bar on the right
Weekly Specials
Every week you can find discounted free range products in the Specials Category
Are you in Cape Town or Port Elizabeth? (or in between)
Yes, we deliver by courier to these areas and in between.  Why not form a chicken club to share the delivery fee?  It's easy. You can also order by yourself.  Read More HERE
Payment Methods for your Farm food
We accept credit card, EFT or COD.  Select your option on the checkout page.
Delivery days
Scroll down in the Right Column to find out when we deliver to your area.
Have fun shopping!