Free range farm food delivered to your door
Wait for a second while the Online shop loads
DRUMSTICKS FREE Range 800g
100136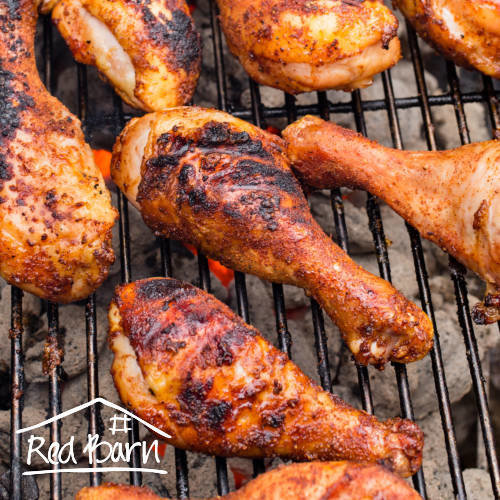 About 6- 8 drumsticks vacuum sealed. Great for braai's. Weight about 800g-900g.
These Asian inspired drumsticks are finger lickin' good! It's hard to believe they are low in cals The glaze would also be great with thighs or wings. I served this with steamed vegetables to make this a complete low fat meal and drizzled the remaining glaze over the vegetables. Also would be wonderful over rice. Thighs would also work great in this recipe, but chicken breast would get too tough.

Asian Glazed Drumsticks

Ingredients:

8 medium RED BARN free range chicken drumsticks, skin removed
olive oil spray
1 cup water
1 tbsp Sriracha hot sauce (or tai chilli sauce)
1/3 cup balsamic vinegar
1/3 cup low sodium soy sauce
1 tbsp honey (or sugar)
3 cloves garlic, crushed
1 tsp ginger, grated
2 tbsp chives or scallions, chopped
1 tsp sesame seeds

Directions:

In a heavy large saucepan, brown chicken on high for 3-4 minutes with a little spray oil. Add water, balsamic, soy sauce, agave, garlic, ginger, hot sauce and cook on high until liquid comes to a boil. Reduce heat to low and simmer, covered for about 20 minutes. Remove cover and bring heat to high, allowing sauce to reduce down, about 8-10 minutes, until it becomes thick, turning chicken occasionally. (Keep an eye on glaze, you don't want it to burn when it start becoming thick) Transfer chicken to a platter and pour sauce on top. Top with chives and sesame seeds and serve.
Plain or flavoured
Plain (0) Tutti Frutti Marinade (0)

Wait for a second while the shop loads, we have lots of products for you!
Red Barn tries to add new and locally produced products on a regular basis.  All our products are either Free Range, organically farmed or just special items made by local craftsmen.
You can search for your product
Use the search bar on the right
Weekly Specials
Every week you can find discounted free range products in the Specials Category
Are you in Cape Town or Port Elizabeth? (or in between)
Yes, we deliver by courier to these areas and in between.  Why not form a chicken club to share the delivery fee?  It's easy. You can also order by yourself.  Read More HERE
Payment Methods for your Farm food
We accept credit card, EFT or COD.  Select your option on the checkout page.
Delivery days
Scroll down in the Right Column to find out when we deliver to your area.
Have fun shopping!