Free range farm food delivered to your door
Wait for a second while the Online shop loads
Breast Fillets FREE Range 500g
100111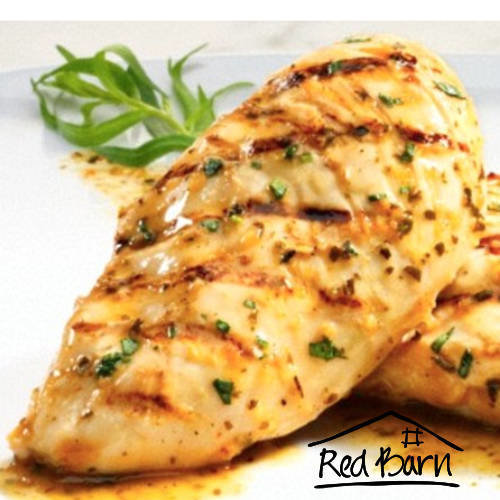 Absolutely Pure free range, deboned, skinless chicken breasts. Vacuum sealed and individually wrapped. There are normally 3 breasts in a pack but when the chickens are big there are only 2 big breasts per pack.
Ideal for frying, boiling, grilling and in Salads.
Try some for your freezer, its a quick and easy meal!
Recipe for chicken breasts
This is a great way to prepare chicken breasts. The texture of the bacon goes brilliantly with the tender chicken. Bashing the chicken out thinly before you start cooking means it cooks much faster than a regular chicken breast.
• 30g Parmesan cheese
• 2 sprigs of fresh thyme
• 2 skinless chicken breasts, DEFINATELY free-range or organic
• freshly ground black pepper
• 1 lemon
• 6 slices of free range smoked bacon
• olive oil
To prepare your chicken
• Grate your Parmesan
• Pick the thyme leaves off the stalks
• Carefully score the underside of the chicken breasts in a criss-cross fashion with a small knife
• Season with a little pepper (you don't need salt as the prosciutto is quite salty)
• Lay your breasts next to each other and sprinkle over most of the thyme leaves
• Grate a little lemon zest over them, then sprinkle with the Parmesan
• Lay 3 bacon slices on each chicken breast, overlapping them slightly
• Drizzle with a little olive oil and sprinkle with the remaining thyme leaves
• Put a square of clingfilm over each breast and give them a few really good bashes with the bottom of a pan until they're about 1cm thick
To cook your chicken
• Put a frying pan over a medium heat
• Remove the clingfilm and carefully transfer the chicken breasts, prosciutto side down, into the pan
• Drizzle over some olive oil
• Cook for 3 minutes on each side, turning halfway through, giving the bacon side an extra 30 seconds to crisp up
To serve your chicken
• Either serve the chicken breasts whole or cut them into thick slices and pile them on a plate
• Serve with some lemon wedges for squeezing over, and a good drizzle of olive oil
• Lovely with mash and green veg or a crunchy salad!
Wait for a second while the shop loads, we have lots of products for you!
Red Barn tries to add new and locally produced products on a regular basis.  All our products are either Free Range, organically farmed or just special items made by local craftsmen.
You can search for your product
Use the search bar on the right
Weekly Specials
Every week you can find discounted free range products in the Specials Category
Are you in Cape Town or Port Elizabeth? (or in between)
Yes, we deliver by courier to these areas and in between.  Why not form a chicken club to share the delivery fee?  It's easy. You can also order by yourself.  Read More HERE
Payment Methods for your Farm food
We accept credit card, EFT or COD.  Select your option on the checkout page.
Delivery days
Scroll down in the Right Column to find out when we deliver to your area.
Have fun shopping!